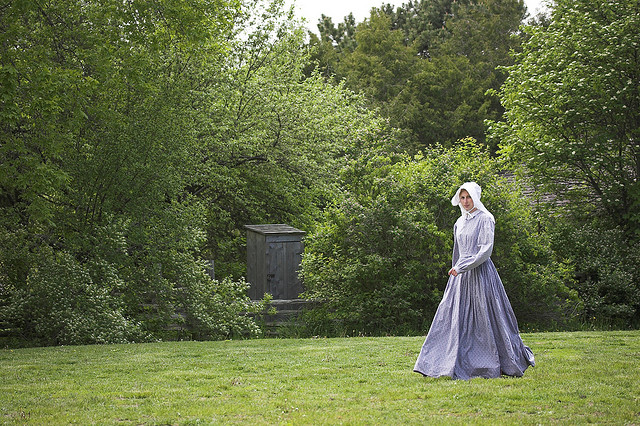 A couple nights ago I went to a craft night a friend of mine hosted. It was impromptu. I called over to say hi and several of my friends were at her house and begged me to come over, too, even if it was only for a little while. There was one stipulation: bring something crafty.
It took me a few minutes, but I dug up a cross-stitch hoop, fabric, and thread I had been wanting to use to make a sweet little homemade "home sweet home" needlepoint. Actually, finding a needle was the hardest part. When I finally hunted one down, I took the supplies with me and drove to my friend's house to join in the crafting fun.
I learned something that night: my stitching skills leave much to be desired. My sweet little needlepoint was not so sweet. We all agreed that I'd have made a terrible frontier wife. Isn't that what they all did? Lovely needlepoints, fetching water, and keeping a household going under the roughest conditions?
This, of course, brought up the topic of our childhood and teenage years and the advent of The Oregon Trail game. I must admit: I never played it. They all had, however, and I was versed enough in the memes of the game to enjoy the spirited conversation about diphtheria, crossing rivers, and the fine womanly art of balancing a water bucket on your head. (Sidenote: Apparently they have an Apple II emulator on their site so you can play the original 1985 version. I may have to try this and see what I missed when my parents didn't buy us the game …)
Of course, the next logical topic of choice was how to win at Minesweeper, which resulted in the download of an app. Yes, you can now relive the favorite I'm-so-bored-with-homework-or-this-job-that-I'm-going-to-play-this-time-suck pastime of the 90s as an app. Apparently, one of my friends knows the trick and another was eager to give it a shot. I also just looked and yes, my computer still has Minesweeper. Who knew! But that's a topic for another day.
{Image credit: Gary J. Wood via Flickr}