Hiya! Th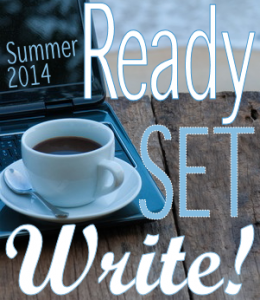 is is a post about my progress towards goals I am making in a summer writing initiative hosted by lovely writers Alison, Erin, Jaime, and Katy. We're posting our goals publicly, cheering each other on, and reporting back via link party to let everyone know how we're doing. Why not join us?
1.  How I did on last week's goals
Once again, set aside some time to write on Monday, Tuesday, Wednesday, and Thursday. Even if it is just a paragraph or two.
Yup! 🙂
But this week I'll also add: do some plot brainstorming again.
Nope. 🙁 Well, not officially. The plot of my story is pretty much always in the back of my mind, but I didn't write anything down, as I had intended.
 2.  My goal(s) for this week
I'm switching things up this week. This summer has been a fantastic time to work on writing and connect with other writers. From Ready. Set. WRITE! for companionship and accountability, to the Nerdy Chicks Write summer school for education in character development, and next up will be the return of WriteOnCon for a huge boost of inspiration and lots of peer feedback, which I am soooo excited about! Once September comes, I'm going to be in serious writer group withdrawal. (By the way, HOW GENEROUS is the writing community at large?! Wow.)
But, in order to be ready for WriteOnCon, I need to work on my plot, my pitch, and my first pages. So that is my focus this time around.
3.  A favorite line from my story OR one word/phrase that sums up what I wrote/revised
I don't know if I'll end up keeping this exchange, or even this character, but I was playing around with a scene where my teenage main character is in a research lab and is getting hit on by an older lab assistant. Here is how that went down:
"You smell good," Eyebrows said.
"I smell like formaldehyde," she countered. "And lawsuits."
4.  The biggest challenge I faced this week
Mom life. I wouldn't change it for the world, but this week just drained me. I need a nap.
5.  Something I love about my WIP
I really believe in it.