Hey, y'all! Th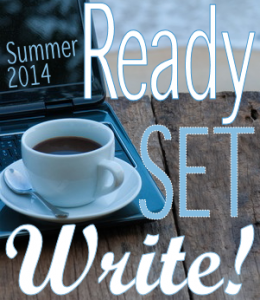 is is a post about my progress towards goals I am making in a summer writing initiative hosted by lovely writers Alison, Erin, Jaime, and Katy. We're posting our goals publicly, cheering each other on, and reporting back via link party to let everyone know how we're doing. Why not join us?
1.  How I did on last week's goals
Work on my plot, my pitch, and my first pages.
Unfortunately, the only work I did on my book was to think about the work I needed to do on my book.
 2.  My goal(s) for this week
To rest. I still need to polish things up for WriteOnCon, and I will. I will! I can do it! (I need a little self-affirmation, here, after this week!)
But that isn't my goal.
My goal is to be a good mom and give the little man the extra love and comfort he needs right now. And then to take care of me whenever I can so I can keep on keeping on. I'll explain in a few …
3.  A favorite line from my story OR one word/phrase that sums up what I wrote/revised
I didn't write anything that would go in my novel, but I did participate in one  of Kidlit Summer School's thirty minute dares (#30mdare). I had to make my main character be mean to her best friend. That uncovered a bit of a dynamic that really made their friendship interesting to me, so I will use it to develop both of their characters more.
4.  The biggest challenge I faced this week
Sleep issues. Our son is going through some developmental changes that have affected his sleeping. One, two, even three hour chunks at a time he's been awake in the middle of the night. Sometimes happy, but wide, wide awake. Other times screaming and unable to calm himself down. So we've been burning the midnight (or the 2am) oil to help him settle and learn to self-soothe a bit. As a result, during the day after, I don't have much brain power.
I'm dissapointed I didn't meet my goal for this week, especially with WriteOnCon coming up, but I don't regret taking care of myself and trying to sleep when he took his naps instead of writing. It was the best choice for my sanity.
5.  Something I love about my WIP
There are some pretty awesome friendships  between the characters.