Good day! Th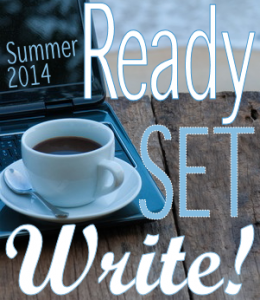 is is a post about my progress towards goals I am making in a summer writing initiative hosted by lovely writers Alison, Erin, Jaime, and Katy. We're posting our goals publicly, cheering each other on, and reporting back via link party to let everyone know how we're doing. Why not join us?
1.  How I did on last week's goals
Polish things up for WriteOnCon.
Be a good mom and give the little man the extra love and comfort he needs right now.
Take care of me whenever I can so I can keep on keeping on. 
I think I did these things. I hope I did. Lots of extra bouncing and tickling and holding for my little man. Down time for me when I got a chance.
And Dr. Who.
This morning I am working on polishing up the query and first five pages of my current WIP (The Echelon Project) for WriteOnCon. I'm terrified, to tell the truth. I'm scared it is rubbish and I'm a fraud and that I'll be discouraged by feedback and quit on my literary baby. But doesn't every writer feel that way, at some point?  I wish it was a completed project I could pitch and truly query right now. That was my goal last year, to have a finished manuscript ready to go this August. I'm bummed I didn't meet that goal, but I am going to cut myself some slack for growing and birthing a human being during this past year, instead. 😉
 2.  My goal(s) for this week
Participate in WriteOnCon and be active on its forums as much as possible.
3.  A favorite line from my story OR one word/phrase that sums up what I wrote/revised
Bird of Paradise. Cryptic, much? Hah!
Really, I just revised the first 250 words for posting in the WriteOnCon forum, and my main character is caring for one of the plants in the greenhouse.
4.  The biggest challenge I faced this week
More sleep issues! Such is my life right now.
5.  Something I love about my WIP
I might be biased, but I think it is a fresh premise and I am enjoying exploring it.