Hello! Th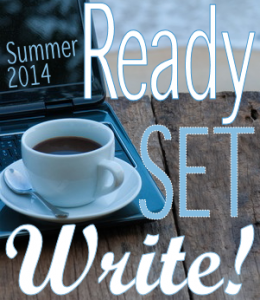 is is a post about my progress towards goals I am making in a summer writing initiative hosted by lovely writers Alison, Erin, Jaime, and Katy. We're posting our goals publicly, cheering each other on, and reporting back via link party to let everyone know how we're doing. Why not join us?
Word Count – 6, 090 to bring me up to speed. EPIC FAIL.
2,171. Despite my best efforts, 5,300 (or more!) words in a week is just more than I realistically can handle right now.
Draft a Query for my WiP – CHECK!
Read a few chapters in The Girls of Atomic City – CHECK!
Survive P90X3 – CHECK! 
Before anyone gets too impressed, I have to admit I'm taking it easy because I'm being gentle on my post-c-section abs and sometimes choosing to write over working out. But I did at least the majority of 3 out of 5 workouts with my husband. I'm happy with that! (And the whole he does the cooking thing is a sweet deal. Check out this breakfast he made for me … yum!)
2.  My goal(s) for this week
Word Count –  Back to 2,500 words again. Same as two weeks ago. It seems more doable.
Start an outline – It will be REALLY rough, but I need to start somewhere.
Raise the stakes – Per this tweet, my helpful husband suggests New York strip. Ahem.
Print out my Rip Current draft – I had set aside the first draft of this contemporary YA project when life got crazy (pregnancy and newborn); I think I'm ready to begin edits now. Fun fact: both of my current projects involve the ocean. I think I miss it.
3.  A favorite line from my story OR one word/phrase that sums up what I wrote/revised
Possibilities.
Most of which will probably be cut in revisions later, but I'm just hashing things out for now.
4.  The biggest challenge I faced this week
Still plot. *sigh*
5.  Something I love about my WiP
The exotic setting. My "Future" Pinterest inspiration board hints at it.
*** UPDATE: I made a last-minute decision to do Camp NaNoWriMo as part of my goal-reaching. Anyone want to join me in a private cabin? ***