Hello! Th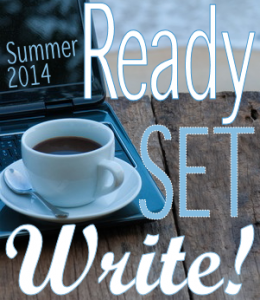 is is a post about my progress towards goals I am making in a summer writing initiative hosted by lovely writers Alison, Erin, Jaime, and Katy. We're posting our goals publicly, cheering each other on, and reporting back via link party to let everyone know how we're doing. Why not join us?
*** UPDATE: I made a last-minute decision to do Camp NaNoWriMo as part of my goal-reaching. Anyone want to join me in a private cabin? ***
Word Count –  Back to 2,500 words again. AT LAST! I DID IT!

Excuse me while I celebrate a bit.
While it took me until noon today to finish, I made it. (And hey, since I wrote it before publishing this blog post, I'm counting it!)
Start an outline – It will be REALLY rough, but I need to start somewhere. YEP! 
And yes, it is VERY rough.
Raise the stakes DONE!
I wrote a couple more version of my practice query to get there, but I am excited about the ideas that it generated.

Print out my Rip Current draft – I think I'm ready to begin edits now.
Printed and ready to go for my new goal for it this week.
2.  My goal(s) for this week
Write for at least 3 days this week.
Develop the major plot points through the middle section.
Focus on the antagonist
Cut and paste Rip Current
(No really. I'm cutting actual paper with scissors. I wrote the first draft of this story out of order. Now I need to get it in chronological order so I can edit it.)
3.  A favorite line from my story OR one word/phrase that sums up what I wrote/revised
Transitions.
4.  The biggest challenge I faced this week
Plot. Always plot.
Also, fireworks disturbing my dog and my baby over the weekend.
5.  Something I love about my WiP
One of my favorite scenes right now feels like a high school version of a Leverage episode!