Hello! Th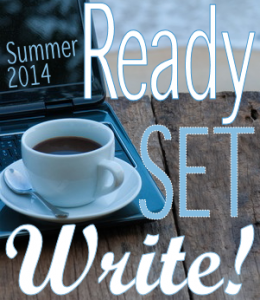 is is a post about my progress towards goals I am making in a summer writing initiative hosted by lovely writers Alison, Erin, Jaime, and Katy. We're posting our goals publicly, cheering each other on, and reporting back via link party to let everyone know how we're doing. Why not join us?
1.  How I did on last week's goals
Write for at least 3 days this week. Nailed it. Didn't write a ton, but I did meet this goal.
Develop the major plot points through the middle section. Kinda-sorta did? Not enough to let myself cross it off, though.
Focus on the antagonist Things are getting clearer. But I'm not there, yet.
Cut and paste Rip Current It is started. I'm enjoying the tactile element, but let me tell you: I've learned my lesson. New scenes get new pages from now on for The Echelon Project (which I'm also writing out of order.) That way I can print and just re-organize. Phew.
2.  My goal(s) for this week
I'm keepin' it simple this week, folks.
Write for 3 days
Tackle those plot points!
Keep cutting and pasting Rip Current
Make a new Mindscapes 8tracks mix for writing/editing inspiration
(My new CD stash, ready to be loaded onto my computer and 8tracks!)
3.  A favorite line from my story OR one word/phrase that sums up what I wrote/revised
Hidden fears.
4.  The biggest challenge I faced this week
Distractions.
5.  Something I love about my WiP
The fun I can have with inventing technologies!