Howdy! Th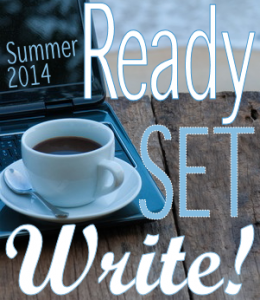 is is a post about my progress towards goals I am making in a summer writing initiative hosted by lovely writers Alison, Erin, Jaime, and Katy. We're posting our goals publicly, cheering each other on, and reporting back via link party to let everyone know how we're doing. Why not join us?
1.  How I did on last week's goals
In a word? Abysmally.
In a GIF?
 2.  My goal(s) for this week
Write Monday through Thursday night, without fail. Without excuse.
And that is all.
3.  A favorite line (well … two paragraphs … ahem) from my story OR one word/phrase that sums up what I wrote/revised
 She slid down to the ground and fingered the dirt. Funny, how it was only deep enough to hold the roots of the small trees and vegetation surrounding the school. All the appearances of normal life, without any of the reality.
She was starting to feel like her whole world was like that.
4.  The biggest challenge I faced this week
A messy house. Other weeks I let it slide and wrote during naptime. This week, I just couldn't let it slide any more.
5.  Something I love about my WiP
I'm finally getting a feel for the plot! I did not do a lot of writing, but I did a lot of thinking this week (and that counts, in my book!) and with the last two scenes I've written, it is falling into place at last.