Come on in! Th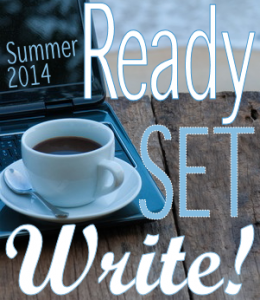 is is a post about my progress towards goals I am making in a summer writing initiative hosted by lovely writers Alison, Erin, Jaime, and Katy. We're posting our goals publicly, cheering each other on, and reporting back via link party to let everyone know how we're doing. Why not join us?
1.  How I did on last week's goals
Write Monday through Thursday night, without fail. Without excuse.
And that is all.
I did it! I think I finally hit on a goal that works for me and this stage of my life.
 2.  My goal(s) for this week
Let's do this again: Mon-Thurs … write, write, WRITE!
3.  A favorite line from my story OR one word/phrase that sums up what I wrote/revised
Character revelations, thanks to summer school! By the way, it's not too late, if you want to join in with a late registration. Hop on over to Nerdy Chicks Write to read some fantastic blog posts by guest lecturers. Our coursework focuses on getting to know our characters better, and I have to say my homework has already made a huge impact on my WIP. I'm grateful to Sudipta Bardhan-Quallen and Kami Kinard for bringing summer school to life. (And equally glad I was on Twitter the day I read about it and hopped on over to participate!)
4.  The biggest challenge I faced this week
It was my first time being a solo parent for nearly a week. My husband had to go on a business trip, so I was on 24/7 duty, no exceptions, with the kiddo. While it wasn't completely different from my norm, since I'm a stay-at-home-mom anyway, I realized just how much I relied on Daniel during the evenings. He's a great dad!
The biggest challenge was also my biggest advantage, however, since I took those nights on my own and turned them into writing opportunities.
5.  Something I love about my WIP
I get pretend what it would be like to be really, really rich.