Hey, there! Th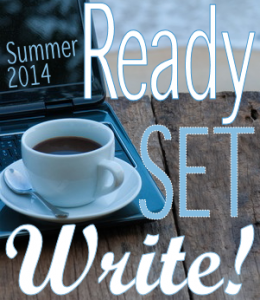 is is a post about my progress towards goals I am making in a summer writing initiative hosted by lovely writers Alison, Erin, Jaime, and Katy. We're posting our goals publicly, cheering each other on, and reporting back via link party to let everyone know how we're doing. Why not join us?
1.  How I did on last week's goals
Let's do this again: Mon-Thurs … write, write, WRITE!
Done and DONE! I even broke 500 words one night, which, while not huge in and of itself, was huge for me. Also … BONUS … I wrote on Friday, too.
 2.  My goal(s) for this week
Why change a good thing? Once again, set aside some time to write on Monday, Tuesday, Wednesday, and Thursday. Even if it is just a paragraph or two.
But this week I'll also add: do some plot brainstorming again.
3.  A favorite line from my story OR one word/phrase that sums up what I wrote/revised
First draft standard disclaimer, here. But I did like this exchange between my main character and the boy who keeps crashing her solitude.
For a moment—just a moment—his eyes held hers, and she caught a glimpse of warmth, a flash of vulnerability, or, perhaps, just a trick to pull her in.
She wasn't sure which. But it worked.
4.  The biggest challenge I faced this week
It's been a busy week, so whenever I do get a chance to sit down, I have to be pretty intentional about putting pen to paper or fingers to keyboard. You know, as opposed mindlessly binge watching Face Off reruns. Which I also did.
5.  Something I love about my WIP
That annoying boy who keeps showing up every time my main character finally gets a little peace and quiet on her own? He's a parkour enthusiast. So, you know, watching American Ninja Warrior with my husband actually counts as research. And so does this: