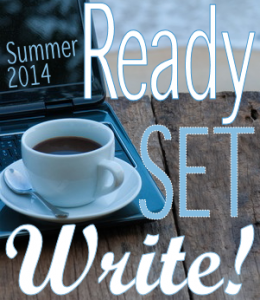 I am a writer, but I'm first and foremost the stay-at-home mom of a five-month-old boy. We're heading into a new phase of babyhood and parenthood at this juncture: one strewn about with flashing toys (that I swore I'd never buy, but then ate my words when those toys made my son laugh with glee), giant plastic activity center monstrosities (more big grins), schedule changes, and a magically overnight rolling and scooting little man who loves nothing better than to MOVE! It's like a break dance show, sometimes. PAR-TAY in the CRIB, y'all!
For the past six months, my work-in-progress (WIP) has been lingering in my mind, but I wasn't able to do much with it. As soon as the chaos of having a newborn settled into a comfortable (if ever-changing) new rhythm of life, though, I began to feel the urge to finish the book idea that had taken hold of me before I was pregnant. I longed for my old uninterrupted mornings of writing, accompanied by an endless supply of coffee. I don't regret that those days are no more (how could I? I have the most adorable little boy in my life now!), but I have been in a quandary as to how to keep writing, without sacrificing family time with my son and husband. Or sleep. I love sleep. I will never take sleep for granted again. I swear, in some alternate universe somewhere, there probably is a world in which the currency is sleep, it is that precious. That'll be two hours and twenty-eight minutes for the burger and fries, please.
I've come to terms with the fact that writing, for now, will only be done in small chunks of concentrated time. But I have this crazy goal: I want to finish my first draft by September. And I'm not sure how I'll keep working toward that goal, even with the the occasional coffeehouse writing sessions my wonderful husband occasionally shushes me out of the house to enjoy.
Enter, Ready. Set. WRITE! I just discovered it through a tweet by author Erin Bowman. Four writers, Alison Miller, Katy Upperman, Erin Funk, and Jaime Morrow are hosting this summer intensive to help fellow writers meet their goals by staying accountable and cheering each other on. I've decided that this is the push I need to commit to my goal. I'm supposed to check in weekly to list my goals and how I've done. So here are my first goals, a couple days late:
WEEK 1 GOALS:
Write at least 200 words per day (about what I can sneak in during a nap) for five days
Figure out the BIG BAD ENDING to my new YA Sci-Fi WIP (Code Name: The Echelon Project)
Plot the grand scheme out, so I can fill in the particulars later.
Alrighty then! Let's do this! Let me know if you jump on board the Ready. Set. WRITE! train, too. I'm looking forward to cheering my fellow writers on as the summer progresses. Thanks, Alison, Katy, Erin, and Jaime for hosting this, and Erin Bowman for bringing it to my attention.
See you Monday, for my first progress report!